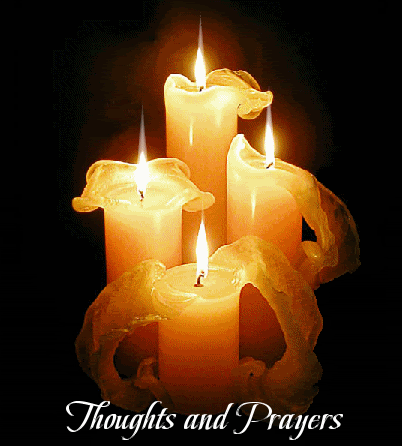 Sisters and Brothers in Francis and Clare, our sister in Christ, Dorothy Steffanic, OFS, of St Francis of Assisi Deaf Fraternity had hip surgery today and is in recovery but not doing very well. Can our fellow Brothers and Sisters in Christ join us in praying for her recovery? She is 90 years old. Gratefully, Connie Wild OFS and the St Francis of Assisi Fraternity.
Sisters and Brothers in Francis and Clare, please keep in your prayers our sister, Peggy Gregory, OFS, Regional Secretary, who is in the hospital with a possible cystic lesion or mass on her brain and may need surgery. Please keep Peggy in your daily prayers.
Sisters and Brothers in Francis and Clare, please keep in your prayers our Franciscan brother and Regional Spiritual Assistant, Fr. Kevin Treston, OFM. Fr. Kevin was found unconscious and is being cared for at MedStar in D.C
Sisters and Brothers in Francis and Clare, our sister Mary Cate Bibro OFS, is requesting prayers. Mary Cate slid off her high standing computer desk chair and fractured her T-8 & L-1 vertebrae. Please keep Mary Cate in your daily prayers for a quick recovery.
Sisters and Brothers in Francis and Clare, our brother, Steve Wolf, OFS, Minister of St. Thomas More Fraternity in Harrisburg, PA is requesting prayers for a member of his fraternity, Naed Smith, OFS, and his family. Naed had been battling deep depression for several months and had tried every avenue to help himself out of it. Naed was not able to do so and committed suicide. Please also pray for the members of St. Thomas More Fraternity in Harrisburg as they try to work through this difficult period.
Sisters and Brothers in Francis and Clare, our brother, Mike Radcliffe, OFS, from St. Joseph Cupertino Fraternity is requesting prayers for his daughter, Chelsea. Chelsea is currently in Arizona in the ICU suffering from a heart infection and pneumonia. May the Good Lord grant her a speedy recovery.
Sisters and Brothers in Francis and Clare, Our sister, Peggy Gregory, OFS, is asking for prayers for her son Joe who has ALS. Below is an update on Joe:
Update on Joseph Gregory
First off I should tell you all that Joe is still in good spirits, still writing his blog and still peaceful. He is participating in the ALS drug trial in Massachusetts and will have his second infusion via lumbar puncture on Thursday, September 19. I'm asking for your prayers – again. His first procedure was very traumatic so I know that he's a bit tense about what's ahead. So prayers for a safe procedure and for a safe journey to and from Worcester. Thanks.
Joe hasn't felt a physical difference with the stem cell treatment, so he doesn't know if he's getting the placebo or just not responding to the drug. Another option is that he's responding but in minor ways, like still being able to walk around and eat and drink and kind of talk. We don't know for sure.
Overall he's doing well. He's still able to work – but now from home. Though his car has been adapted for a handicapped driver, his workplace is too far away so he's exhausted by the time he gets there. Eating is about the same, his speech is a lot harder to understand, and typing is becoming more difficult too. Our family is most grateful to one of his work friends for donating almost-new equipment her father received from the VA before his death this year from ALS. Her gift has been a godsend and includes important, expensive equipment like a bed; bed lift; top-of-the-line power wheelchair (that Joe named Isabella:); stair lift; even bags of food for when he has a feeding tube. May God bless his friend and grant eternal rest to her father.
Recently, Joe was having a hard time sleeping and was waking up with headaches – a classic symptom of breathing loss. After a breathing study at Hopkins, it was decided that he will see a respiratory therapist soon for the BiPap. While there, they also talked about a feeding tube, which will probably be surgically inserted very soon. The best news is that he's still not medically forced to get on the BiPap or the feeding tube, but it's better to have the installation now before he needs it. By the time he really needs it, his body may be in such bad shape that they won't operate on him – which means even sooner death. He doesn't have to use the feeding tube or BiPap; he can eat and drink what he likes. But the feeding tube will prevent him from losing more weight because he can't nourish himself. They are taking a positive, proactive step rather than a reactive one here.
Other good news: a wheelchair ramp is being built this week by members of our parish and school community who have been begging to help. Truly, the outpouring of love, prayer, and support in this community is overwhelming. All of you who have been praying for us are included in that, too. Thank you and God bless you. We couldn't keep going without your prayers.
On Sunday, Joe attended Mass at Holy Name Church in DC, the home parish of Venerable Al Schwartz, a Maryknoll missionary and founder of the Sisters of Mary in Korea and the Philippines, who died of ALS in 1992. Father Al's sister and brother also attended the Mass, but my Joseph was considered the celebrity of the day. Father Al's sister, Dolores, called Joe the "second Father Al", based upon what she reads in Joe's blog. It was a beautiful occasion – filmed by EWTN. (http://fatheralsainthood.org/)
Thank you again, for all your prayers and words of encouragement and support. We literally FEEL them holding us up. We are all still praying for that miraculous cure for Joe, but we also realize that if that's not God's will, Joseph will die of ALS. We also recognize that (as Joe says) "the cross is a gift."- Peggy Gregory, OFS
Dear Sisters and Brothers in Francis and Clare
, our sister, Barbara Countryman, OFS, is requesting additional prayers for Bob, her husband, especially for this Friday. "Please pray for my husband Bob, he will have a mitral valve replacement on
Friday, 9/7
@ Hopkins. Keep his surgeon, Trenton Zahr, MD especially in prayer as well. We are truly blessed to have an Infectious Disease doctor, Kirk Lippincott, who was able to find what was making Bob so very, very sick for the last six months. The bacterial infection was found throughout his body and has affected his heart, bone marrow, retinal nerves and spinal discs. Bob is in good spirits and is looking forward to feeling well again! Thanks for the prayers". Barbara Countryman, OFS
Dear Sisters and Brothers in Francis and Clare, St. Francis Fraternity at Cap. College is requesting prayers for one of their members, Vivian Fogg, OFS. She fell and broke "several lumbar areas in her back." She is in a cast from the neck down. Vivian has been active in driving members to meetings. Please keep our sister Vivian in your daily prayers.
Dear Sisters and Brothers in Francis and Clare, Our brother, Tom McGrath, OFS, Spiritual Assistant for St. John the Beloved Fraternity in Alexandria Virginia is currently in the hospital diagnosed with a mild stroke. Please keep Tom and his family in your daily prayers and forward this prayer request to your fraternity for Tom's quick recovery.
Sisters and Brothers in Francis and Clare, Our sister, Cindy Evens, OFS (Minister of St. Michael the Archangel Fraternity) needs our prayers. For the past several weeks, Cindy has been struggling with pneumonia and problems with antibiotics to treat her condition. Please keep our sister in your daily prayers.